I'm doing my first "So We Don't Forget" post today! This week we are blogging about our favorite alone time activity. To join in, click on the button below!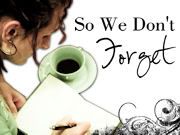 Alone time… isn't it wonderful?! Okay, maybe not for everyone; but it is for me. I need my friends, and I need adult conversation, but I also need my alone time. As a stay-at-home mother of four children three years old and under, I don't get a whole lot of time for any of these things (i.e. hanging out with friends, engaging in adult conversation, spending time alone), so what time I do get usually comes when the kids are sleeping.
So what is my favorite thing to do while the kids are sleeping (besides eating a bowl of ice cream ;-))? Blogging! I love to write, and blogging gives me the perfect place to do so. (I actually blogged about my love of writing–and blogging–here about a year ago!) I remember when my husband told me he had started a blog. I said something along the lines of, "What's a blog? I want one…." And now that I have one, it's like my outlet to the adult world. Through blogging I am able not only to satisfy my desire to write but also to share encouragement with others. Often times I even feel as if the Lord teaches me through my own writing–probably because writing forces me to take the time to think through things. This is probably why, for me, blogging has to be an alone time activity. I tend to become so deep in thought while I'm writing that I'm nearly impossible to talk to–just ask my husband!
While I do have some alone time every day, I obviously can't always devote it to blogging. But I can usually find a way to at least fit a bowl of ice cream in!